The Cast of The Lion King Do a Surprise Performance on Virgin Airplane!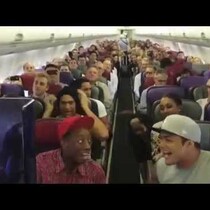 Posted April 1st, 2014 @ 12:41pm
On their way from THE LION KING Brisbane season promo announcement tour, members of the Australian cast felt so happy, they decided to sing the 'Circle of Life' prior to take off on their flight back to Sydney! I bet a lot of people were jealous that the passengers got a free Broadway show with their flight while the rest of us have to spend money on a theater seat. Check out this awesome performance by the Lion King Cast!