So This is How Miley Cyrus Kicked Off Her Bangerz Tour...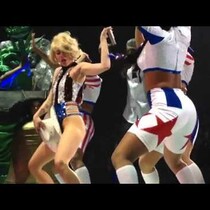 Posted February 18th, 2014 @ 1:27pm
Yes, you know Miley wouldn't just show up & not do something crazy on her show right?? Here's a snippet of what to expect from Miley Cyrus' Bangerz Tour. Inlcuding pretending to go down on a fake Bill Clinton, for Party in the USA.
Story courtesy of Buzzfeed.com