Ladies & Gentlemen, Back To The Future Fans... THE HOVERBOARD!!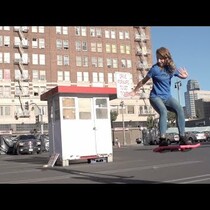 Posted March 4th, 2014 @ 1:13pm
THE HUVR by HovrTech... IS HERE (Kinda.)
WHY CAN'T THIS BE REAL?!?!
This is BADASS, but many are wondering why this video was made, including me. It seems to be promoting something, but what?! Do YOU know?
Either way, Real or Nahh, I STILL WANT ONE.