An Award Winning Team! The 99.1 KGGI Family Represents At The Addy Awards!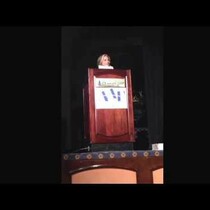 Posted March 10th, 2014 @ 10:59am
[Evelyn Erives being introduced as the host of the AAF Awards]
This past weekend 99.1 KGGI won 4 awards at the American Advertising Federation Awards!! It was a fun night at the Mission Inn, and many of the 99.1 staffers were in attendance. In fact our very own Evelyn Erives served as the host for the evening!!
Congrats to ODM, Evelyn and our production man Josh Healy who all won awards for various commercials that ran in 2013. (Another great reason to advertise on 99.1 KGGI.... We do award winning work!) ;)