Bruno Mars Prank On Ellen Degeneres Show Goes Viral!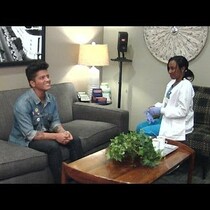 Posted February 12th, 2014 @ 8:36am
Since his Super Bowl Halftime Show and previously on The Ellen Degeneres Show, Bruno Mars has been one popular man. On The Ellen Degeneres Show, There is a classic hidden camera prank that she does on her show. Here's a video of Bruno Mars pranking a nurse while Ellen is in his ear telling him what to say. It ends up being a very awkward visit with the nurse that wasn't really sure who Bruno Mars actually was in the first place.